Cortex EIP Safety & Security Solution for COVID-19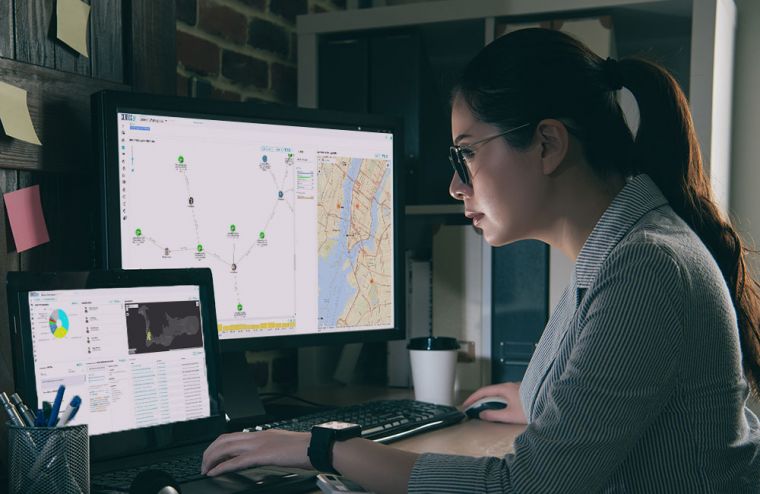 It's All About Data
Initially regarded as a medical/disease problem requiring a global effort to identify, diagnose, test for and vaccinate against the novel Coronavirus, the COVID-19 pandemic has rapidly transformed into a "Data Problem."
In particular, the efforts to restart the economy have become essentially a cat-and-mouse game of monitoring, testing, expanding, and adapting to the realities of trying to conduct business during a still rapidly spreading disease. In this kind of environment, what matters the most is data, and the ability to make sense of it.
If this sounds like a job for Cortex EIP, you're right!
Designed for all kinds of data fusion, analysis, visualization and action planning, Cortex EIP can gather data from disparate sources like contact tracing apps; state, local, regional and federal sources; Centers for Disease Control, NIH, and other medical sources—as well as monitor employee work availability; track supply chains and distribution networks; watch impacts over time and geospatially; and perform social network analysis of potential disease carriers.
Our Safety & Security Solution
While a number of groups are focusing on contact tracing of the general population—most notably the collaboration between Apple (iPhone) and Google (Android)— we see the real value in understanding how the pandemic is affecting commercial enterprises and their ability to recover and return to work.
This is why we have been working on something special: The Cortex EIP Safety & Security Solution for COVID-19.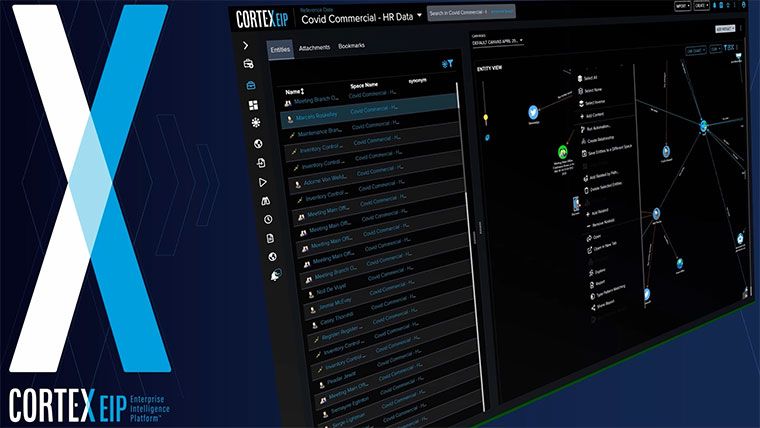 Global C-Suite executives are confronting unprecedented, devastating threats to ongoing business. Disruptions to safety and security affect every facet of operations and have significant impacts on shareholders and key stakeholders. To protect the health and viability of the organization, senior management must understand, monitor, track, and trace the safety and security of employees, facilities, supply chain and key customers—while managing the process of rapid recovery as quickly as possible.
The new Cortex EIP Safety & Security Solution for COVID-19 tracks all mission-critical data for every employee, facility, and location. By tracking and tracing information on every employee's location and fitness to work, and overlaying that data with work locations, local, regional, national and international pandemic information, enterprises will have the foundational data they need to return to work now and stay open safely in the coming months.
The Cortex EIP Safety & Security Solution for COVID-19 enables businesses to:
Watch the spread of Coronavirus to determine its impact on all locations
Track availability of employees and deploy them proactively
Immediately isolate and quarantine infected staff and trace their contacts
Plan, execute, and optimize the reopening and recovery strategy
Stay in compliance and document all safety solution efforts
With the Cortex EIP Safety & Security Solution for COVID-19, businesses will be able to know when it is safe to expand operations, be alerted when threats appear, and make the best decisions for the safety or their employees, their communities, and their enterprise.
Key Capabilities:
Track location and fitness for work status of all employees
Monitor infection/exposure status at all facilities, worldwide
Perform contact tracing for the global workforce
Measure the health of supply chains and distribution networks
Access local health regulations for all active regions
But Not Just COVID-19
Cortex EIP is the Center of Your Safety & Security Strategy
The COVID-19 Recovery Solution is just one of many solutions that work together to keep you ahead of the threat and operating smoothly. Other available solutions include:
Supply Chain Intelligence
Business Email Compromise
Corporate Due Diligence
Fraud Investigation
Insider Threat Investigation
The Coronavirus pandemic is the most recent disruption to business as usual. But it is far from the only crises that can impact businesses today. Other natural disasters, terrorist attacks, criminal/cyber activity, and political upheavals have already had significant impacts in the first two decades of this century. In each case, locating, securing, and protecting the enterprise's most valuable assets—its people, its data, and its products—become job #1.
One of the greatest advantages of using an enterprise intelligence platform for a COVID recovery solution is that it can grow to become the hub for all the organization's Safety and Security needs. Whether the problems are Fraud, Insider Threat, Business Email Compromise, Supply Chain Intelligence, or something we don't even know about yet, Cortex EIP can easily be adapted to tackle these issues. This ensures that an investment made in Cortex EIP is future-proof and will grow to support the entire safety and security needs of the enterprise.