Analytics for a Better, More Humanitarian World?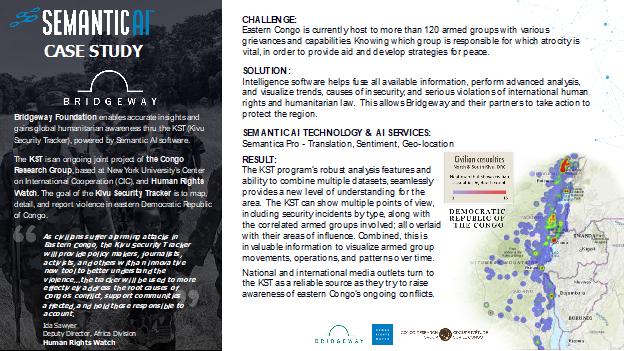 - by Charles Gillespie, Co-Founder & Senior Advisor, Semantic AI -
Analytics can seem like an abstract concept. The tools, techniques and platforms used to integrate data, map connections, and speed decision-making, can occasionally seem mundane. After all, there are only so many ways to make data compelling.
However, sometimes—and, perhaps, more frequently than you might think—data analysis can literally save lives.
At Semantic AI, we are proud of our breakthrough efforts in supporting our government, our military, and many commercial enterprises. This is rewarding, vital work.
And our reach goes far beyond U.S. borders. We are extraordinarily honored that our software is also being used as an important piece of the process required to put an end to genocide and crimes against humanity. As an example, our partnership with the Bridgeway Foundation, along with other related organizations, helps track, analyze, and counter the more than 120 violent armed groups in the eastern Democratic Republic of Congo (DRC).
The collaboration of these multi-national organizations, along with Semantic AI's state-of-the-art intelligence platform, has brought a new level of crucial understanding of trends, causes of insecurity, and serious violations of international human rights and humanitarian law in the region.
While Semantic AI is only a part of the ongoing effort, we are proud of the contribution we make to this important endeavor.
---